Malakai McKenzie shooting: Victim 'recognised killer'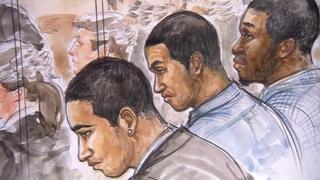 The victim of a shooting in Nottingham recognised his killer moments before being hit, a court has heard.
Malakai McKenzie, 19, was shot in the head in a car outside The Hubb pub in Sherwood on 21 April 2012, after a series of tit for tat gang attacks.
Nottingham Crown Court was told Mr McKenzie shouted, "That's Cam, it's going to get sticky", then ducked - but was hit by a bullet.
Cameron Cashin, 21 and two other defendants deny murder.
Mr Cashin, of Liddington Street, Malcolm Francis, 19, of Constance Street, and Ijah Lavelle-Moore, 21, of Nottingham Road, all in the Basford area of Nottingham, also each deny three counts of attempted murder and one of possessing a firearm.
Gun CCTV
Timothy Spencer QC, prosecuting, told the jury one of four shots hit Mr McKenzie and he suffered a fractured skull.
His brother and two cousins, who were also in the car, drove him to hospital but he died a short time later.
The court also heard police received a 101 non-emergency call, several minutes before the shooting, from a resident who was concerned about a group of men meeting up on a quiet street.
The prosecution said this was the killers making a final rendezvous.
The jury was also shown CCTV footage which it was claimed showed Mr Cashin carrying a gun shortly before the attack.
A fourth suspect, who cannot be named for legal reasons, is thought to have fled to the Caribbean.
The trial continues.