Lindsey Inger death: Calls for inquiry into level crossing safety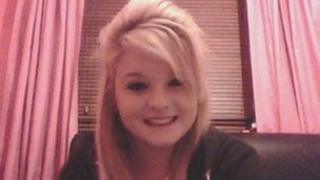 A union is demanding a parliamentary investigation into Network Rail because of "needless level crossing tragedies".
The Transport Salaried Staffs' Association (TSSA) will write to the Transport Select Committee to call for an inquiry into level crossings.
It comes after Lindsey Inger, 13, was killed at a Nottinghamshire crossing in November and two hefty fines for separate incidents.
Network Rail said it recognised the dangers and was investing in safety.
Union general secretary Manuel Cortes accused the company and the Office of Rail Regulation (ORR) of ignoring safety warnings 14 months before Lindsey was killed in Hucknall, Nottinghamshire.
In 2008, Jean Hoggart, 56, and her seven-year-old grandson Mikey Dawson died at the same spot.
'Safest in Europe'
Mr Cortes said: "Now, much too late, the crossing has finally been closed after three people have needlessly died and two families torn apart.
"We need answers and we want them in front of a parliamentary committee."
He will write to committee chairman Louise Ellman to ask for the inquiry.
Last year, Network Rail was fined £1m over the deaths of friends Olivia Bazlinton, 14, and Charlotte Thompson, 13, who were hit by a train in December 2005 as they crossed the railway line at Elsenham station in Essex.
And last month it was fined £450,000 after the death of Jane Harding at Moreton-on-Lugg, Herefordshire, in January 2010.
A spokeswoman for Network Rail said: "We recognise that level crossings can be dangerous which is why over the past two years we have closed over 700 and are investing some £130m in improvements."
She added that increased safety features had been made at 2,500 of the country's 6,500 crossings.
A spokesman for the ORR said it was pushing for the closure of level crossings where possible.
"Great Britain's level crossings, although among the safest in Europe, pose a significant rail safety risk to the public," he added.