Debbie Starbuck murder: Husband Jamie jailed for life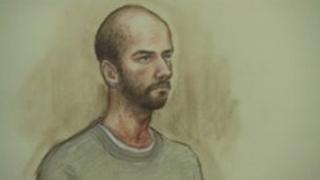 A husband killed his wife a week after their marriage, then dismembered her body and burned the remains.
Jamie Starbuck, 36, admitted murdering his wife Debbie and was ordered to serve a minimum of 30 years by the judge at Nottingham Crown Court.
Starbuck, from Nottingham, used his wife's money to travel the world.
He tried to cover up the crime by sending emails in Mrs Starbuck's name for nearly three years, pretending they were travelling together.
Timothy Spencer QC, prosecuting, said Mrs Starbuck, 44, had inherited £150,000 following the death of her mother.
He said the pair, who met on an internet dating site, married at West Bridgford register office on 21 April 2010 and it was believed that Mrs Starbuck was killed eight days later.
'Haunted and tormented'
Mr Spencer said Starbuck dismembered his wife's body and burnt her remains at their home in Desford Close, Old Basford.
Officers have never established how Mrs Starbuck died but during their investigation they found an unsent email from Starbuck that read: "I had planned for it to be quick... I never expected you to be so durable."
The court heard that after his wife's death Starbuck spent £70,000 of her money travelling.
Starbuck was arrested at Heathrow Airport in January after concerned friends of Mrs Starbuck contacted the police.
Sentencing Starbuck to life, Judge Michael Stokes QC said: "This case shows the categories of wickedness are never closed.
"On more than 75 homicides I'm trying hard to think of one as horrific as this.
"You knew she came from a strict Jewish background where cremation is wholly outside their tradition.
"You dismembered her body and burnt it. Even in death you stripped her of all dignity."
Speaking on behalf of Mrs Starbuck's family Beth Jones said: "There are so many things about this that are almost impossible to bear.
"The unbelievable and shocking fact that she is dead, has been dead for so long and we didn't even know.
"For nearly three years we thought we were communicating with her, living with the illusion that she was alive and happy and travelling around the world with Jamie.
"We are haunted and tormented by the suffering that she must have endured in the violent act that caused her death."