Mansfield Town celebrates Football League return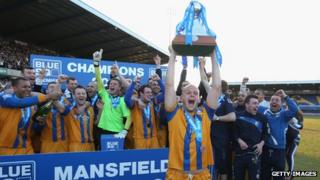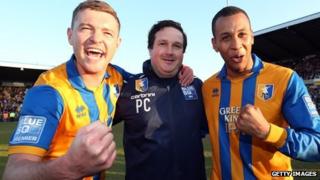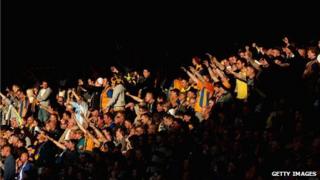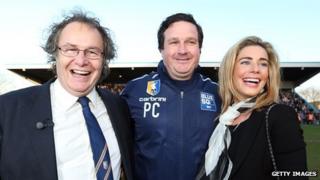 Celebrations have been taking place after Mansfield Town won promotion back into the Football League after a five-year absence.
The Stags secured the Blue Square Bet Premier League title, thanks to a 1-0 win over Wrexham, at Field Mill, on Saturday.
The club's chairman John Radford said he wanted to challenge for promotion again next season.
Captain Adam Murray said the victory was the biggest moment of his career.
Mr Murray, who is also the assistant manager, said: "It's the best feeling I've ever had. I can't believe we're champions. It's been a hard season and we've done it."
Mansfield had an incredible second half to the season which saw them achieve a record-equalling 12 wins in a row.
'Fabulous day'
Paul Cox, the Mansfield manager, said he was keen to start preparations for next season.
He said: "I'll be in the office on Monday morning, planning. I'll sit down with the chairman. He will not want to stand still.
"I don't want us to be a yo-yo club. I'm hungry, and if I could use a word [to describe] this season it would be desire."
John Radford, who bought the club in 2010, said: "We're back where we deserve to be in League Two, and hopefully out of that [division] quite quickly and going up rather than down."
Fans knew if rivals Kidderminster Harriers won their game and Mansfield lost, or drew their own, they would have to endure the play-offs.
BBC Radio Nottingham's Charlie Slater watched the game near the dug-out and said the Mansfield management were keen to know the Kidderminster score.
"Paul Cox kept asking me what the score was at [Kidderminster] but told me not to let the players know, he was very keen they shouldn't know during the game," he said.
"Paul was so relieved at the end, he was in tears."
Kidderminster Harriers beat Stockport County 4-0 at their home ground, Aggborough.
One Stags fan, who gave his name as Sean, watched the whole game through railings at the side of the pitch because he could not get a ticket.
He said: "It was absolutely fantastic and it was worth it. I can live with [not being inside the ground]. The best thing is that Stags were promoted."
Supt Mark Holland, in charge of policing at the match, said he was delighted with the conduct of Mansfield Town fans.
He said: "Stags fans were a credit to the club. It was a fabulous day for the club and the town as a whole and I want to say thank you to all of them for the part they played."