UK Coal Mining Ltd fined over death of John Harbron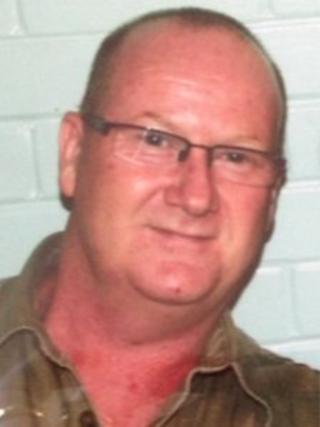 A judge has highlighted "systemic failings" at a colliery where a worker was crushed to death by steel pipes.
UK Coal Mining Ltd has been fined £125,000 over the death of John Harbron at Thoresby Colliery in July 2009.
However, the company restructured last year and cannot pay the fine, or £175,000 in legal costs, because it has ceased trading and has no assets.
Mr Harbron's widow, Sharon, said she was "not very happy" with the situation.
"We can never bring John back," she said.
"John would have still been here today if rules were better, if health and safety was better."
The company, which pleaded guilty to breaching the Health and Safety at Work Act, was sentenced at Nottingham Crown Court.
Managers ignored concerns
Mr Harbron, a locomotive driver from Wellow in Nottinghamshire, was unloading 40 steel pipes from a rail car on 24 July 2009 when they rolled on him.
The 47-year-old died at the scene from multiple injuries.
In the 18 months before his death there had been four written reports by locomotive drivers about the instability of the pipes.
However, managers failed to either read all of the reports or act on the concerns in them.
Peter McGuiness from the Health and Safety Executive, which prosecuted the company, said he was "appalled" that managers had ignored the concerns.
"These reports should have sounded alarm bells with the company," he said.
"These reports were really cries for help from the workmen."
The court heard that changes to improve safety at the colliery have since been made.