Three eggs for snow-hit peregrine falcons in Nottingham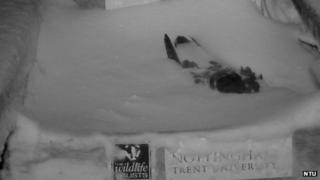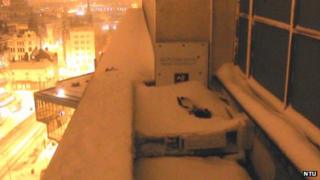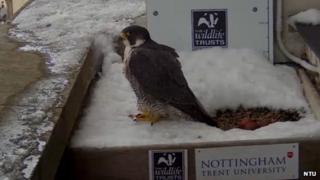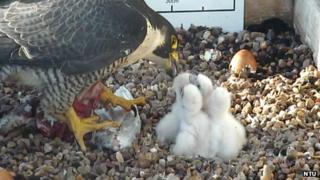 Three eggs have been laid by a peregrine falcon despite it almost being buried by snow in its nest at the top of a Nottingham landmark.
The birds have been enduring low temperatures on the roof of Nottingham Trent University's Newton Building.
Thousands of people have followed the falcons' progress on a live webcam for the past three years.
Nottinghamshire Wildlife Trust said many viewers feared that the female had died on Sunday as a result of the snow.
Erin McDaid, a spokesman for the trust, said: "It was a nerve-wracking weekend and there was a real fear the female had died.
"It shows her resilience, and we have now got our fingers crossed [for the three eggs]. It's really exciting but a real rollercoaster."
'Harsh viewing'
Thousands of people, from 65 countries, have been watching the plight of the birds of prey on the webcam since 2011.
Mr McDaid admitted that the amount of interest can add pressure to help the falcons, particularly when they appear to be in trouble.
He said: "We've been asked to intervene [by the public] but apart from providing the nesting tray, we have to accept they are a wild pair and have chosen the site themselves.
"We had many calls on Saturday and it would be easy to intervene but we must remember that there's thousands of wild birds in Nottinghamshire coping with the weather."
In April, the cameras were turned off when two chicks perished due to the father's disappearance, while hunting for food, and a bad spell of weather.
The male returned but it did not prevent the death of the third chick, which had suffered as a result of the cold and wet conditions.
Mr McDaid said at the time: "It definitely made harsh viewing but a real privilege to watch the natural occurrence."
The peregrines have raised 17 chicks on the university building, including a sole survivor from last spring.