Newark Hospital could take 24 hour 'urgent cases'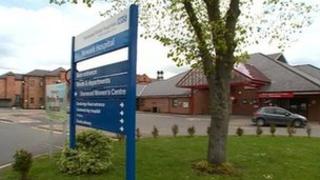 A hospital which no longer has an accident and emergency (A&E) department could soon accept 24-hour urgent cases, according to a Nottinghamshire MP.
Patrick Mercer said he had been making a clinical case for longer opening hours and greater number of facilities to be developed at Newark Hospital.
Campaigners opposed a move to turn the hospital's emergency department into a minor injuries facility in 2011.
Health bosses said a decision had yet to be made.
Newark's emergency department closed in 2011 because the NHS said the market town was not big enough to justify a modern A&E unit.
Mr Mercer said there was to be "a greater level of opening" at the hospital and, when asked whether that meant 24-hour opening, he replied: "Yes."
Ambulance 'strain'
Amanda Sullivan, Chief Officer of NHS Newark and Sherwood Clinical Commissioning Group (CCG), said patients on the End of Life register could now be admitted to Newark Hospital between 18:00 and 08:00.
The trust had stopped such admissions in May 2011.
She said discussions over the viability of patients with certain conditions being admitted to Newark rather than going elsewhere were also under way
"(This) work continues to be ongoing and no decisions have been made at this stage. The work is expected to be completed in the summer," she said.
Mr Mercer said Newark accepting urgent cases would take the strain off ambulances - giving them the option to take patients to Newark as well as hospitals in Grantham or Kings Mill.
Paul Baggaley from the Say Yes to Newark Hospital campaign said he welcomed the move to increase services at the hospital, but hoped the health authority listened to what patients wanted.