Evelyn Gibbs murals to be uncovered at Nottingham church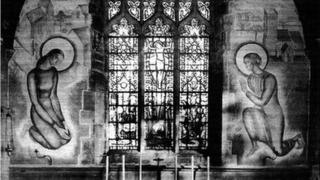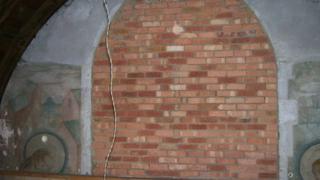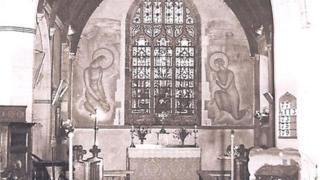 Hidden murals by war artist Evelyn Gibbs are set to be uncovered and restored after electricians discovered them at a church.
The paintings, previously thought to have been destroyed during 1972 modernisations, show a Biblical scene set in Nottingham.
They were painted at St Martin's Church in Bilborough after Gibbs was evacuated to Nottingham in the World War II.
They were discovered behind a false ceiling during repairs in 2009.
Work to renovate the church and remove the ceiling is expected to begin in February 2014 and should be completed by the end of the year.
Evelyn Gibbs biographer Pauline Lucas said: "It's a very exciting project.
"So many murals have been destroyed and painted over and yet here is one that actually survived and is going to be restored."
The Heritage Lottery Fund, which has already granted £60,300 towards the project, said the murals are "of national importance".
They depict the Annunciation, when the Angel Gabriel told Mary she would bear God's son.
Wayne Manor
St Martin's Church itself is painted behind the Angel Gabriel and the old farm buildings of Bilborough village are behind Mary.
Further in the distance is Wollaton Hall, a mansion in Nottingham which featured as Wayne Manor in recent Batman film The Dark Knight Rises.
The lower thirds of the paintings, below the false ceiling, are covered by two layers of emulsion.
Removing the emulsion could damage the murals so an artist will repaint them.
Consultation day
Churchwarden Hilary Wheat said: "In the next hundred years or so when we have technology that allows us to remove emulsion without damaging the paintings we will take it off."
A consultation day is being held at the church from 10:00 to 14:00 GMT.
People can give their views on what heritage activities they would like to take part in while the medieval part of the church is restored, including the hidden murals.
They can also give their views on plans to re-design the church's 1970s extension.
The work is expected to cost about half a million pounds and a further grant application to the Heritage Lottery Fund is due to be made later this year.
Nottinghamshire Historic Churches Trust has already donated some money.