Nottingham's Broadmarsh shopping centre 'risk'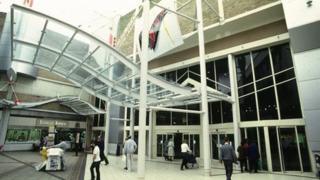 A company which owns two Nottingham shopping centres says the city council is holding up £390m investment in the complexes.
Intu Properties said Nottingham City Council had not progressed an application to redevelop the Victoria Centre put on hold 12 months ago.
The council was worried that would be at the expense of the Broadmarsh centre which it wants prioritising.
Intu said it would now spend £35m on improving the Victoria Centre.
Intu spokesman Mike Butterworth said: "In the 12 months since we bought Broadmarsh... we have listened to the council, local people, the business community and retailers and have designed a scheme that both we and the council are happy with."
He said Intu was prepared to "adopt a Broadmarsh first, Victoria Centre second approach" in return for the council dealing with the Victoria Centre application.
Councillor Graham Chapman, deputy leader of Nottingham City Council, said it could not sign off the plans without knowing the Broadmarsh would be prioritised.
He said: "We need them tied down, we need an agreement.... We need to see bulldozers going into the Broadmarsh Centre, not just on paper."
Nottingham City Council, which owns the Broadmarsh lease, has been planning the redevelopment of the centre for almost two decades.