Kirkby Mowlands £200m housing development views sought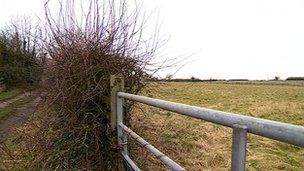 A £200m development in a Nottinghamshire town could create as many as 1,750 jobs, developers have claimed.
The proposed scheme, called Mowlands, would include up to 1,800 homes, a 120-acre community park and an area for businesses in Kirkby-in-Ashfield.
Developer Westerman Homes has begun a public consultation.
But a local residents' group has questioned the potential benefits and the impact on surrounding countryside.
The 170 hectare site lies between the A38 near Sutton Road and Pinxton Road.
Plans also include a £10m relief road to the A38 west of Kirkby and a new primary school.
The developer said it would create 1,000 construction jobs and 750 posts in businesses within the scheme.
Christina Chapman, who is managing the consultation, said the homes would be built with environment and community in mind, but would also service a pressing need.
"The simple fact is we have an awful lot of houses to deliver in Nottingham and in Ashfield.
"In Ashfield alone there are about 6,000 to deliver in the next 10 years and there just isn't enough brownfield land to deliver that," she said.
Mike Slack, chairman of the Kirkby Area Residents Association, said he felt the economic benefits were being exaggerated.
"With the developments which have happened so far, there has been no sign of regeneration in Kirkby taking place.
"Many of the new-build houses are being sold at a discount and local retailers say they have seen no benefit.
"These new homes will be for commuters who work and spend their time elsewhere."
Related Internet Links
The BBC is not responsible for the content of external sites.