East Midlands bus firm Premiere Travel to cease trading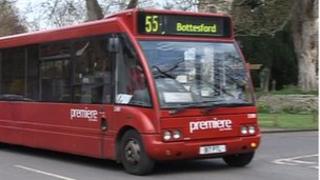 A bus firm is to cease operations with a potential loss of 200 jobs after a buyer could not be found.
Nottingham based Premiere Travel Ltd is being wound down and will cease trading in the "next few days".
Drivers had complained to BBC Radio Nottingham that they had not been paid but accountancy firm RSM Tenon said wages would be met by the Redundancy Payments Office.
It added that it hoped staff would be recruited by rival firms.
Rapid expansion
The company filed a notice in court on Monday protecting it from creditors while a buyer was sought.
RSM Tenon released a statement saying it was in negotiation with several interested parties but on Friday announced it was beginning an orderly wind-down process.
Rival company Trent Barton has announced it will accept Premiere tickets "until further notice".
Paul Finnity, from RSM Tenon, said: "We have been unable to secure a buyer and are now carrying out an orderly wind-down of the business.
"We are hoping that Premiere employees will be taken on by the companies which take over the routes which Premiere has been running."
Mr Finnity previously blamed the failure of the business on a rapid expansion and the company over-reaching itself.
The firm, wholly owned by founder Steve Greaves, was started in 2002 with just two buses but now employs 200 people with a £9m annual turnover.
Premiere runs services in and around Nottingham as well as routes from Leicestershire and Derbyshire in to the city.