Review needed into ambulance services, say East Midlands MPs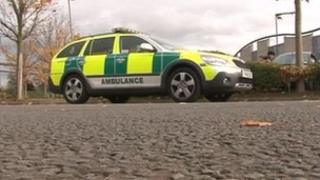 The government has said it could review ambulance services nationally after hearing about elderly patients being kept waiting in the East Midlands.
Health minister Anna Soubry, said she had heard of elderly people lying on the floor for four hours despite being minutes from Nottingham's QMC hospital.
She said national target times affected this and called for an "urgent review".
It was prompted after MP John Mann spoke out about East Midlands Ambulance Service (EMAS) station closures.
EMAS currently plans to replace 65 stations with large hubs and community posts which it said would make the system more efficient.
Speaking in the Commons on Monday Mr Mann argued these closures would further affect response times to patients in rural areas.
'Unacceptable provision'
Mr Mann, Labour MP for Bassetlaw, said: "What is unacceptable is that rural areas have a worse provision for ambulances than the rest of the county.
"If somebody needs emergency ambulance provision there needs to be one in the area. It is no good having ambulances coming from 40 miles away because they are not going to get there in enough time."
He said waiting times for ambulances had increased because ambulances were being sent to nearer emergencies to meet targets.
On one occasion an 80-year-old pensioner lay in a garden for more than an hour with a broken hip, and on Boxing Day an 89-year-old from Warsop, Nottinghamshire, waited eight hours for an ambulance after she fell at home.
Mr Mann said EMAS needed to come back with better proposals on station closures and those in Worksop and Retford should stay.
'Other options'
Health Minister Ms Soubry, who is Conservative MP for Broxtowe, made clear changes should be made.
"This needs urgent review and we will be making recommendations to the department to say we really need to look again at the ambulance service," she said.
More than 45,000 people signed 10 petitions against EMAS's plans which affected stations including Bassetlaw, in Nottinghamshire; Grantham, Louth and Bourne in Lincolnshire; Hinckley in Leicestershire; and New Mills and Buxton in Derbyshire.
Northamptonshire would be left with two "hub" stations in Northampton and Kettering.
An ambulance spokesperson said after feedback from a public consultation they were looking at other options and its board would meet to consider what action to take on 25 March.