East Midlands Airport suspends flights due to snow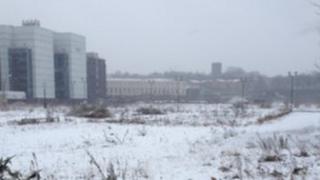 East Midlands Airport has temporarily closed amid "worsening conditions" while snow is cleared from the runway.
Several roads in Nottinghamshire are also affected by snow, with motorists advised to avoid unnecessary journeys.
The Met Office issued a weather warning for the East Midlands with some parts of the region getting up to 10cm (4ins) of snow.
An East Midlands Airport spokeswoman said she did not know when flights would resume.
'Avoid unnecessary journeys'
An airport spokesperson said: "Flights from East Midlands Airport have been operating as normal today.
"However, due to worsening weather conditions, the airport has temporarily suspended flights from landing and taking off, while snow is cleared and checks are carried out on the airfield.
"We would encourage all passengers travelling today to check with their airline or tour operator for the latest up-to-date information on their flight."
More snow is expected over the weekend and a "bitterly cold south-easterly wind" will remain, the Met Office added.
Schools in the county had to be closed earlier in the week as the first snow hit the region.
Nottinghamshire Police and the Highways Agency are warning motorists to be prepared for the conditions.