Man jailed over fatal Epperstone bypass crash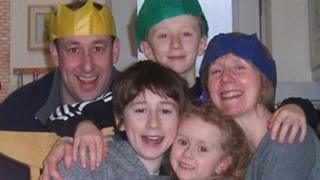 A man who admitted causing the deaths of two people in a Nottinghamshire car crash has been jailed.
Craig Simpson, 42, from Uddington, Glasgow hit a car carrying a family of five with his new convertible Saab, on the A6097 near Epperstone in August 2011.
Mark Gallagher, 43, who was driving his family home, was killed, as well as Simpson's partner Louise Hunt.
Simpson was jailed for 21 months at Nottingham Crown Court.
He was also banned from driving for four years and will have to take and pass an extended driving test should he wish to drive again.
Mr Gallagher was driving his family home to Cawston in Warwickshire from a holiday at Center Parcs at the time of the crash.
His wife Sue and their three children were all injured. Mrs Gallagher under went surgery and spent three months in hospital.
The Gallagher family solicitor, Rebecca Hearsey, said: "Mark's entire family has been left completely devastated by his tragic and untimely death.
"Although the defendant has received a custodial sentence today, Mark's family feel that they have been handed what is, in effect, a life sentence as they try to come to terms with the devastating loss of a much loved husband and father."
Miss Hunt, from Ravenshead, Nottinghamshire, was in the front passenger seat of Simpson's car when it hit the Gallagher family's vehicle and burst into flames. She died at the scene.
Jailing Simpson, Judge Michael Stokes QC, said although he had dealt with numerous cases "of this kind", he had never dealt with one which had "such devastating consequences for so may people or with such heartbreaking impact statements".
Simpson, formerly of Ravenshead, has no recollection of the incident due to injuries he sustained in the crash. He admitted two charges of causing death by careless driving.