Nottingham's Rock City 'targeted' by criminal gangs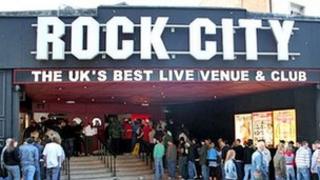 A Nottingham music venue said it has been targeted by criminal gangs following a large number of reported mobile phone thefts.
About 300 phones were said to have been taken at Rock City, from September 2011 to August last year, according to police figures.
The numbers are 10% of the total reported in the whole of Nottinghamshire for that period.
The club said it was working with police to resolve the problem.
'Big money'
Rock City's general manager Bart Easter said some of the thefts are down to organised criminal gangs that have been following bands on tour across the UK.
"It seems to be live music [venues] that [gangs are] targeting and we have to continue to be vigilant," he said.
"We talk to various bands, tour managers about whether they have had issues, things to watch out for. It's becoming something all venues are starting to be well aware of."
Mr Easter added in some cases not all phones have been stolen, some are lost and later returned to their owners.
Insp Leona Scurr, from Nottinghamshire Police, said: "It's travelling organised criminals that are coming from North Africa, eastern Europe, targeting our city.
"The phones are sent abroad, they're unlocked, it's big money for these criminals when they can get £250 for a phone."
Nottinghamshire Police said 2,964 phones were reported stolen in Nottinghamshire, from September 2011 to August 2012, with 298 of those at Rock City.