Jawaid Khaliq Boxing Academy in Nottingham could close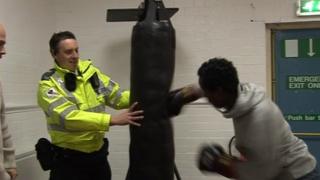 A boxing academy which claims to reduce crime and anti-social behaviour will close if it cannot find new premises.
The Jawaid Khaliq Boxing Academy is run by the former world champion boxer and his brother, Kamran Khaliq.
Police have previously said the club, based in Nottingham, has helped them build up a good relationship with the young people who use it.
But the club cannot afford to stay in its current premises and has been unable to find a suitable new venue.
Kamran Khaliq said: "Here they [young people] have got something positive; they've got a role model in my brother who was a former world champion boxer, and actually achieved MBE status.
"Having positive role models in their life will give them aspirations to be great, but if they haven't got that then they are just going to fall into the trap of doing things that may not necessarily be good for their future."
The club was previously based in Dakeyne Street, where the rent cost £2,000, but the building was condemned.
The club moved to Salisbury Square in November 2011, where Nottingham City Council temporarily provided premises rent-free.
But the club cannot afford the £16,000 annual rent it must now pay and must move in four weeks.
A spokesman for Nottingham City Council said: "We don't have any suitable property in our stock at such a low rent as their previous premises, but continue to talk to the club and offer assistance where we can.
"However, we cannot grant rent-free accommodation indefinitely."