Bus driver takes passenger to hospital after ambulance no-show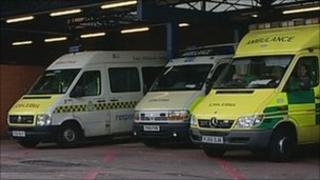 A bus driver took a 75-year-old passenger directly to hospital after an ambulance did not arrive after an hour.
Premiere bus driver Alison Pike said she was shocked as they had waited for 60 minutes after calling 999.
The man was taking the bus through Radcliffe-on-Trent in Nottinghamshire when he fell off a seat on 30 January.
East Midlands Ambulance Service (EMAS) thanked the bus driver but said the case was not life-threatening so other emergency calls had taken priority.
Zimmer frame
The driver took the injured passenger to Nottingham's Queen's Medical Centre via the city's ring road.
Ms Pike said: "The bus went round the corner… he came straight out of his seat and lost his balance and another passenger dialled 999.
"He was trapped between the seat, the aisle and his zimmer frame.
"He is 75 and he had banged his head - I don't think he was knocked out but you could see he wasn't in 100% health."
The driver said she had waited with another passenger for an ambulance but after an hour decided to drive to the hospital.
"There were no flashing blue lights and no speeding because I had the gentleman lying on the floor - I had to take my time to keep him comfortable."
'Rang back'
An EMAS statement said: "The patient's condition was assessed as not life-threatening and the call was categorised as requiring a response within 30 minutes.
"At the time, we were extremely busy and all of our vehicles were occupied on life-threatening emergencies which have to take priority.
"One of our triage nurses rang back and explained the circumstances and during this conversation we were advised that the patient would be taken to hospital by the bus driver.
"We would like to offer our thanks to the bus driver for their actions and also apologise for the distress caused by these circumstances."