New Year Honours for Nottinghamshire Olympians and Paralympians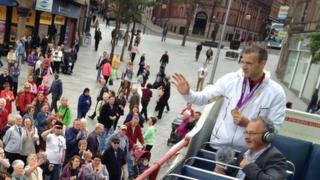 Six Nottinghamshire Olympians and Paralympians have been appointed MBE in the New Year Honours.
Paralympian sprinter Richard Whitehead, who runs on blades and won a gold at London 2012, has become an MBE for services to athletics.
Swimmer Oliver Hynd, who also won a gold medal at the Paralympics, has been appointed for services to swimming.
Gold medal winner Etienne Stott and his slalom canoeist partner Tim Baillie are also among the recipients.
Mr Stott, 33, is originally from Bedford but has lived and trained in Nottingham for 15 years.
"It shows what a momentous year it's been to have something like this," he said.
"It is an honour and it's coming from the Queen. It's cool, you know.
"With a bit of luck this will promote and rake the embers of the warmth of the Olympics and keep it going."
Richard Whitehead, from Lowdham, said: "Getting that kind of recognition is outstanding for me and my family.
"We [Paralympians] are starting to get that deserved recognition."
Para-equestrian Sophie Wells, from Harby, has been appointed MBE for services to equestrianism.
'Loved every minute'
Newark-born equestrian Mary King, who at 51 was the oldest woman in Team GB, has been appointed MBE for services to equestrianism.
Away from sport, former retained firefighter David Beardsall has been appointed MBE for services to local government.
The 62-year-old served with Nottinghamshire Fire and Rescue Service for more than 43 years, making him the longest serving officer with the service.
"I joined in 1969 and I've loved every minute of it," he said.
Mr Beardsall has helped more than 5,000 children learn about fire safety, road safety, first aid and electricity and water safety.
He said that being appointed MBE was "truly unbelievable".
Jane Todd, the first female chief executive of Nottingham City Council, has been appointed OBE for services to local government.
Ms Todd has overseen a number of high-profile projects, including the construction of two new tram lines and development of Nottingham railway station.
She stepped down in September on health grounds after four years in the role.