Dorket Head landfill: Odour reduction measures 'not working'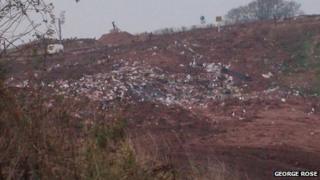 People living near a landfill site say it still smells "incredibly bad" despite measures to reduce the odour.
Extra wells have been installed to extract gases at Dorket Head landfill in Arnold, Nottinghamshire, and should be effective by now.
But residents say the measures are not working and the smells have continued to penetrate their homes over Christmas.
The site operator has said work is continuing to minimise odours.
Resident George Rose said the smell was strong on Thursday when he had guests.
'Absolutely rank'
"We opened the door to let them out and the smell was absolutely incredible.
"It was so embarrassing. They were coughing and spluttering going into their car.
"I can't describe just how bad it was. It was absolutely incredibly bad. It was absolutely rank is the only way I can describe it."
Mr Rose lives in Brechin Close, less than 0.8km (half a mile) from the landfill site, and said the smell affects an area of approximately an 6.5km (4 miles) radius.
He said the smell comes and goes depending on the direction of the wind.
"I feel as if my house is stuck on top of a tip," he added.
At the start of December the Environment Agency said it had worked with the site operator to install extra wells which would extract gases from the area, and these would become effective within a couple of weeks.
Julie Guy, who lives in Jenned Road, less than 0.4km (a quarter of a mile) away from the landfill site, said it still smells.
She believes it could be to blame for headaches she suffers.
"On Christmas Eve it smelled all morning," said Mrs Guy.
"Some days you wake up and can smell it in your house.
"Even with the windows and doors shut it still seeps into the house. It just smells like rotting cabbage."
'Getting worse'
Christopher Tyas, who lives on Surgeys Lane, less than 0.8km (half a mile) from the landfill site, said: "On the 14th and 15th it was really horrendous. You could hardly breathe. It was really, really bad.
"It has been getting worse as the year has gone by - it's getting stronger and stronger and more frequent.
"In the summer you can't come out and have a barbecue or [come out] for any length of time without feeling a bit green - it made you feel a bit nauseous."
The Environment Agency said it would meet the site operator and local MP in the new year to assess the situation.
A spokesperson from the Environment Agency said: "We are fully aware of the situation at Dorket Head landfill site and the concerns of the residents.
"We want to reassure those concerned that we are continuing to closely monitor the performance of the site and ensure that FCC Environment, the site operator, is taking steps to ensure that odours are minimised."