Rolleston residents create their own flood defences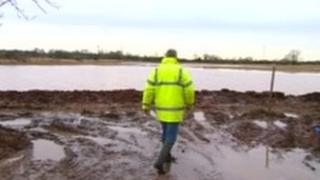 Residents of a Nottinghamshire village have created their own flood defences after heavy rain caused flooding for the second time in a month.
The villagers stayed up overnight to create the clay bank outside their homes in Rolleston.
Residents said they were still recovering after being hit by severe flooding three weeks ago.
Nottinghamshire County Council sent pumps into the village to remove some of the water at 01:00 GMT on Friday.
Rachel Lund, from Rolleston, said: "Last time the water came in six to nine inches deep and seeped in within minutes.
"This time, thanks to the people in the village, we have put up a clay wall to stop the flows. It could have been a lot worse."
More rain expected
Residents across the county faced a second day of flooding following heavy rainfall.
In Bestwood Village people had to be rescued after their vehicles got stuck in the flood water.
Taxi driver Kim Bagdent was one of those who was stranded and said the floods in the area were the worst she had seen for a long time.
"I misjudged how deep the water was and I didn't even make it half way through," she said.
"Fortunately someone helped me push the car out."
Forecasters have predicted more rainfall could be on its way over the weekend.