Lindsey Inger: Funeral held for girl killed by tram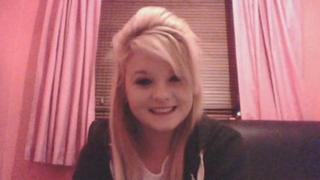 The funeral for a 13-year-old girl who died after being hit by a tram has been held.
Lindsey Inger was struck at a level crossing four years after a woman and her seven-year-old grandson were killed at the same spot.
More than 100 people were expected to attend the funeral service in Nottingham.
Lindsey, from Bulwell, was hit at the crossing near Moor Road, Bestwood Village, on 28 November.
Her foster mother Marlene Starling said she was very popular.
"She had a lot of friends but I didn't realise how many friends she did have," said Mrs Starling.
Lindsey's friends and family have called for a permanent footbridge to be installed at the crossing to prevent further deaths.
Mrs Starling has also refuted reports which suggested Lindsey had been playing "chicken".
Since Lindsey's death Tramlink Nottingham has agreed to introduce a speed restriction on that part of the tram line.
A temporary bridge will also be installed over the crossing.
Jean Hoggart, 56, and her grandson Mikey Dawson were hit by a train at the crossing in 2008.
Network Rail later paid undisclosed damages to Mrs Hoggart's husband after he issued High Court proceedings claiming the firm was aware of the dangers but took no action.