Lindsey Inger tram death: Temporary footbridge announced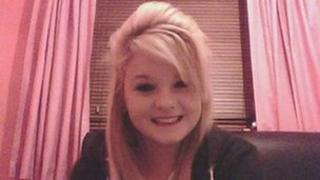 Plans for a temporary footbridge at a level crossing where a Nottinghamshire teenager was killed have been announced by Network Rail.
Lindsey Inger, 13, was hit by a tram near the Moor Bridge stop in Hucknall on 28 November.
Tramlink Nottingham said it was working with Network Rail, and it would also be introducing a speed restriction at the site on Thursday.
The measures were discussed at a public meeting in Bestwood on Wednesday.
It was chaired by Ashfield District councillor Chris Baron, who said he was hoping for a positive outcome and had "no interest in a blame culture".
Speaking after the meeting, Phil Hewitt, chief executive of Tramlink Nottingham, said: "First thing we'll do is put a speed restriction to slow the trams down so people can see them, and likewise for the tram to see them if there's an issue."
'Save lives'
In 2008, Jean Hoggart, 56, and her seven-year-old grandson Mikey Dawson died after being hit by a train at the same crossing.
Improvements were made to the lighting, and layout of the crossing, following recommendations at the time, but residents in the area said a footbridge was now necessary.
National Rail's regional route managing director Martin Frobisher said he hoped it would be possible to put something up "within a few short months".
Lindsey Inger's foster mother Marlene Starling said: "Until we can get a permanent bridge we're happy with a temporary one. It's going to save lives.
"I don't want more people going through what I'm going through."
Nottinghamshire Police, the Rail Accident Investigation Branch and Nottingham Express Transit, are all investigating the accident.