Lindsey Inger's crossing death housing safety warning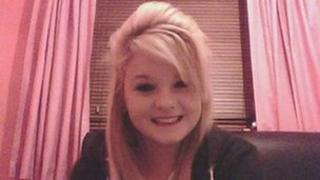 A Nottinghamshire council has said it could not have forced a developer to build a bridge over a rail crossing where three people later died.
Lindsey Inger, 13, was hit by a tram at Moor Bridge in Hucknall on 28 November. In 2008 a woman and her seven-year-old grandson were hit by a train there.
In 1999 Railtrack urged Ashfield District Council to make a bridge part of conditions for new housing.
But the council has insisted it could not have enforced this recommendation.
Railtrack, which was then responsible for railway infrastructure, wrote to the council during the planning process.
It said the increased use of the crossing as a result of the extra housing would make it "incompatible with the current level of protection provided".
'Changes made'
But when planning permission was granted in 2001, no conditions were placed on the landowner.
A spokesman for the council said a request for further safety work was put to the developer.
He said: "The developer indicated it would be wholly unreasonable to bear the cost of any improvement to the crossing, saying that crossing safety was a matter for Railtrack."
The council added records showed it could not have enforced conditions over the safety aspects of the crossing and also noted such work was a "matter for Railtrack to consider in its future plans".
The authority also said improvements were made in relation to the building of the tram, with additional changes made after the deaths of Jean and Mickey Hoggart in 2008.
Police, the Rail Accident Investigation Branch and NET, which runs the tram network, are all investigating, while Network Rail, Railtrack's successor, is co-operating with enquiries.
A public meeting about the crossing is being held at the Community Centre on Park Road.