Newark Hospital's NHS trust lost £4m since A&E-downgrade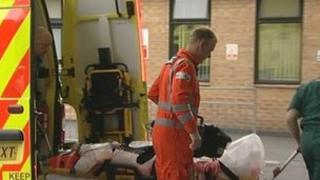 A Nottinghamshire NHS trust, facing a £1bn overspend, lost £4m since announcing the downgrading of a hospital's A&E.
Figures obtained by the BBC, indicate the Sherwood Forest NHS Trust's income from patient care fell from £20m in 2009 to £16m this year.
During this period, Newark Hospital downgraded its A&E department to a major injuries unit.
Trust bosses admit better use of services is needed to increase income.
'Put house in order'
A freedom of information request to the trust specifically referred to any loss of income related to the downgrading of A&E services, which has resulted in emergency patients being taken Lincoln instead.
In November, the trust also admitted a private finance initiative contract to rebuild King's Mill Hospital in Sutton-in-Ashfield, originally expected to cost £1bn, exceeded £2bn.
Chris Mellor, interim board chairman of the Sherwood Forest NHS Trust, which runs the Newark and Kings Mill hospitals in Nottinghamshire, was appointed last month to help improve the financial situation.
He said: "The more we can get people to use our hospitals the more income that brings into the trust.
"My job is to return this trust to financial sustainability, make better use of the services we have and to put the house in order."
'Work smarter'
Earlier this week, residents met to voice their concerns about the current under-use of the Newark hospital.
In response, Mr Mellor said it was too early to say whether the A&E would re-open.
"We need to work a lot smarter than we do now," he said. "By sensible planning over the next three to five years I'm sure we can improve services and reduce the cost.
"We can't make this trust financially viable in the medium term unless we can persuade the government to contribute to what is an unaffordable cost of this PFI hospital.
"We do have excellent facilities here but we can't afford it."