Emma Lifsey fatal crash crossing safety work scrapped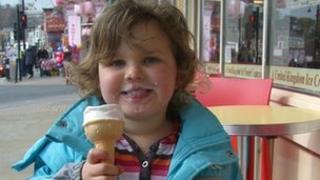 Safety work on a level crossing in Nottinghamshire where a four-year-old girl died was scrapped after officials decided it was not necessary.
Emma Lifsey from Haxey in North Lincolnshire died after a crash at the Beech Hill crossing at Misson Springs, near South Yorkshire on Tuesday.
A report by Network Rail in 2011 identified it as needing improvement.
But the company said the Office of Rail Regulation later decided to shelve the project.
A 67-year-old woman who was driving the car suffered neck injuries and is said to be in a stable condition.
Right solution
The Network Rail report said the Beech Hill crossing was "no longer suitable for half barriers" and proposed to install full barriers in April 2013.
But Phil Verster, route managing director for Network Rail, confirmed an assessment by the Office of Rail Regulation (ORR), who have to authorise all improvement works, rejected this.
Mr Verster said: "We assess the level crossings regularly. After our proposals were assessed by the ORR they decided the right solution for this level crossing was to keep the half barriers.
"At this stage we don't know what went wrong on this accident and we are investigating. Based on the information we receive we will make a decision about this level crossing and focus on learning about what happens at these crossings."
Safety risk
He added installing bridges at every one of the 6,500 UK level crossings was unaffordable.
A spokesman from the ORR said it could not comment on the Beech Hill case while an investigation was ongoing but admitted all levels crossings posed a level of risk.
He said: "ORR wants the rail industry to close level crossings, but where this is impracticable, is pushing the industry to deliver innovative solutions such as the development of new technology to make crossings safe for all users."
British Transport Police have said they want to speak to a tractor driver who was seen near the crossing at the time of the crash.
Det Insp Mick Jackson said: "We believe he may have vital information which could assist our investigations into this tragic accident."