Dr Foster highlights death rate at Sherwood Forest Hospitals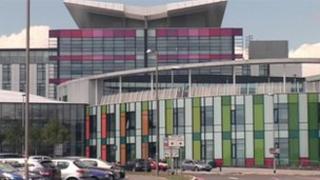 Health chiefs are "not satisfied" with improvements at Sherwood Forest Hospitals NHS Trust after a higher than expected death rate was revealed.
The Dr Foster Hospital Guide found the Nottinghamshire trust had a high mortality rate in one of four measures used by the private research group.
The figures are marginally better than last year and the trust is now looking to make further improvements.
It was found to have an expected level of mortality in three other measures.
The report uses four mortality rate measures, including deaths after treatment and deaths in hospital care, to show which centres have a higher or lower rate than expected.
'Warning signs'
In three of the measures, including the government's preferred indicator, the trust performed about average nationally.
The Sherwood Forest Hospitals NHS Trust runs King's Mill Hospital, in Sutton-In-Ashfield, and Newark Hospital.
The Dr Foster report said: "These measures are to be used as a warning sign of a risk that poor quality care may be leading to a higher than expected mortality.
"They are not measures that definitively state that poor quality care is happening. Rather, they are a signal that further investigation should be carried out."
Dr Nabeel Ali, executive medical director, said: "Whilst our mortality rate remains virtually unchanged overall, the trust board and I are not satisfied with this and want to see a more significant year-on-year improvement.
"We have improved our performance over the past 12 months, however so have others and as a result our relative position remains much the same."
Meanwhile, Nottingham University Hospitals NHS Trust had a better than expected mortality rate in one of the indicators.