Firms leave Nottingham 'over Workplace Parking Levy'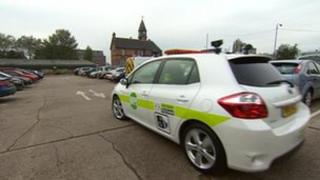 Nottingham is losing businesses to other cities over its workplace parking tax, the Chamber of Commerce has warned.
In April, Nottingham City Council introduced the Workplace Parking Levy (WPL), which charges companies with 11 spaces or more, £288 a year per bay.
John Dawson, of the Chamber of Commerce, said some businesses just could not afford the levy.
The city council said the charge was needed to raise public transport funds.
Councillor Jane Urquhart, who is in charge of transport, said: "We thought the levy was the best option for Nottingham.
"We decided against a congestion charge and decided to introduce the levy to match the government's £500m which it is putting into the tram and station development."
However, Mr Dawson said: "We have some evidence of some businesses having to make people redundant in order to pay the levy and reduce their investments as they can only spend the money once."
And Bernard Taylor, finance director at Games Warehouse - which used to be based in Nottingham - said the company was forced to relocate because the levy would have cost it about £7,000-a-year.
"The answer we came up with was to move somewhere where the cost base wasn't foisted on us by the local authority," he said.
"We've been in Derby for six or seven months now and we're very settled.
"Nottingham has lost what we consider to be a very valuable talent pool, highly educated and intelligent people who are no longer part of the Nottingham scene."
'Improved lives'
Others disagree and say the WPL has got people onto public transport and improved their lives.
Adam Bird, co-founder of Nottingham company Essendex, said: "Our employees use the tram, cycle, bus and some even walk.
"They have realised buses aren't so bad and you can have a better quality of life as you arrive at work fresher and leave work fresher.
"If you're going to transform Nottingham, you've got to improve the mix of businesses and creativity and it takes the council to make bold steps like this."
The council said the scheme would raise £14m a year but will raise £8m in its first year, £2m less than the original £10m predicted.
The levy is set to rise to £380-per-bay, by 2015.