Park-and-ride in Nottingham reopened after flooding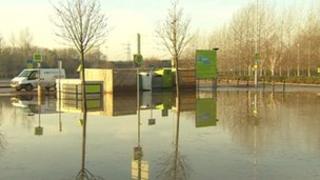 A main park-and-ride site in Nottingham has reopened after being closed for five days due to flooding.
The Queen's Drive park and ride opened on Saturday with an extra service scheduled for Sunday.
Heavy rain caused flooding across Nottinghamshire with homes damaged in several villages and some roads closed for several days.
Nottingham City Council said all bus services in the city would be back to normal from Saturday morning.
'Remain vigilant'
Six flood warnings remain in place on the River Trent in Nottinghamshire at Girton, Sutton, Collingham, High Marnham, Laneham and Dunham.
An Environment Agency spokesman said the flood risk was "improving" with river levels slowly falling.
"We would still ask people to remain vigilant until all the flood warnings and alerts are removed."
On Tuesday, a new multi-million pound Left Bank flood scheme in Nottingham was put to the test, helping to save thousands of homes along the River Trent from flooding, the spokesman said.