Nottingham Castle's Robin Hood revamp plans submitted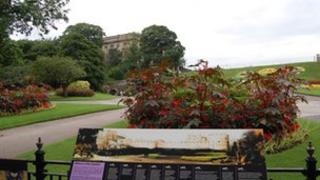 Plans for a £26m revamp of Nottingham Castle have been submitted to the Heritage Lottery Fund (HLF).
The proposals include the creation of a new visitor centre, building on the Robin Hood legend and improving access to the network of caves below.
Nottingham City Council said the decision over a £15m HLF grant which was "essential" for the project, was not expected until at least April 2013.
The city council said the work would not begin until 2016.
In 2009, the city's only dedicated attraction, the Tales of Robin Hood, closed due to falling visitor numbers.
The same year the city council set up a commission, headed by the Sheriff, to brainstorm ideas.
Plans for a £25m medieval village at the castle were shelved because of the recession but it recommended the development of a world-class attraction at or near Nottingham Castle.
'Medieval story'
Nigel Hawkins, Nottingham City Council's head of culture, said: "We're looking at opening up the original moat house with the bridge... improving the ground, [and] bringing out the medieval story."
Plans also include a two-storey extension, with a Robin and the Rebels Discovery Centre and improved temporary exhibition galleries.
The council said the Grade l listed castle attracts almost 270,000 annual visits.
It plays host to a range of popular annual events including the Robin Hood Beer Festival, the Robin Hood Pageant and Outdoor Theatre productions.