Tram death prompts widower's safety plea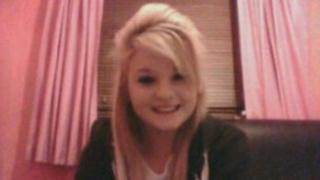 The husband of a woman who died at a Nottingham rail crossing has spoken of his shock after a teenager was struck by a tram and killed at the same spot.
Laurence Hoggart's wife Jean and seven-year-old grandson Mikey Dawson died at Nottingham Road, Hucknall, in 2008.
Lindsey Inger, 13, from Bulwell, died after the collision on Wednesday. Police have appealed for witnesses.
Mr Hoggart believes a bridge over the crossing could save lives.
Lindsey was hit at about 19:00 GMT while walking home with friends and was taken to Queen's Medical Centre where she was declared dead.
'Awful event'
Jean Hoggart, 56, and Mikey Dawson were hit by a train at the crossing four years ago.
Mr Hoggart said: "I am so sad for the family of young Lindsey Inger who tragically lost her life.
"I drove past the scene on the evening of the accident and knew straight away what had happened.
"I lost my wife and grandson four years ago on the 22 November 2008 in the same place and the memory of that awful event suddenly and unexpectedly came rushing back."
He added: "I appreciate (a bridge) may cost a significant amount to build but the money paid out in railway bonuses could have paid for it easily."
Passengers sought
Both Network Rail and Tramlink Nottingham, which runs Nottingham Express Transit (NET), said they are working with police to help with the investigation.
Phil Hewitt, chief executive of Tramlink Nottingham, said: "This crossing was subject to a thorough investigation in 2008/09 following another fatal incident here on the other side, the national rail side.
"A number of recommendations were made and those were were fully implemented by Network Rail and NET."
Detectives investigating Lindsey's death are appealing for passengers on the tram to come forward.
Det Insp Ged Hazelwood said: "We know there were several passengers on the tram when the crash happened, but some of them left the scene without leaving their contact details or speaking to police.
"We need to identify them and find out what they saw on Wednesday evening."