Lindsey Inger killed in Hucknall tram collision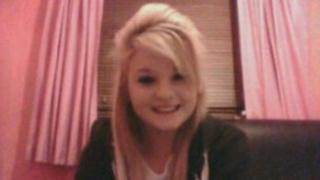 A teenage girl who was seriously injured when she was struck by a tram in Nottinghamshire has died.
Police have named the 13-year-old as Lindsey Inger from Bulwell, Nottingham.
Officers were called to the junction of Hucknall Lane and Nottingham Road in Hucknall, at about 19:00 GMT on Wednesday.
Friends said Lindsey had been walking home with them and it was "extremely dark" at the time so they did not see or hear the tram approaching.
'Not secure enough'
Flowers were laid at the scene of the accident earlier and friends have been paying tribute to the teenager online.
Tara Layton, the mother of Lindsey's friend Paige who was with her when the accident happened, said: "Lindsey was a beautiful, loving, outgoing girl and unfortunately her life has been taken through not having the right equipment on the pathway.
"This area is not secure enough. Accidents have happened here before and I'm surprised nothing has been done.
"Why does it have to take another life for someone to do anything?
"This shouldn't be a walkway if no-one is going to make it secure."
In 2008 Jean Hoggart, 56, and her seven-year-old grandson Mikey Dawson died after being hit by a train at the same crossing.
Mark Spencer, MP for Sherwood, has called for urgent improvements to make the crossing more secure and suggested a bridge could improve safety for pedestrians.
He said: "I am mindful that this is not the first fatality on Nottingham's tramline and we obviously need to look at what's going wrong and how we can fix it."
Neil Wood, general manager for NET, the company which runs the trams, said: "Our thoughts and sympathy are with the teenager's family at this time.
"We have launched our own internal inquiry into the incident."
A spokesperson from the Rail Accident Investigation ranch said: "A preliminary examination is being carried out at the site."
Nottinghamshire Police have urged witnesses to come forward.