Nottingham Ear Foundation: Funds to expand centre needed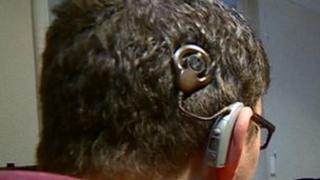 A Nottingham charity is aiming to raise £700,000 to expand its services for people with hearing problems.
The Ear Foundation wants to expand its facilities in Nottingham where it helps people with technology that can improve their hearing.
Spokesman Sue Archibold said the foundation needed to expand "because we cannot meet the demand".
The expansion will include a new group room, seminar rooms, an IT suite, offices and rehabilitation rooms.
Cochlear implant
"We have grown enormously since setting up here more than 20 years ago, both in terms of the number of people we help and the number of educational, clinical and research partners we work with at Nottingham University and its hospitals," Ms Archibold said.
"As the demand for our work has grown, we are running out of space."
Will Ogden, who was born deaf, started using the centre, which opened in 1989, was he was three.
He has now graduated from university after being fitted with a cochlear implant, which is an electronic device that is embedded in the head to improve hearing.
"I was the first deaf person born into our family so the Ear Foundation was a great place for my parents to drop into to test out new technologies and find out how to communicate with a deaf person."
The implant uses small electrical currents to stimulate the hearing nerve, which then sends signals to the brain where they are interpreted as sound.