Ofcom awards Nottingham local TV licence again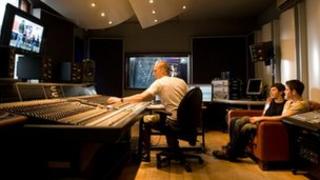 Broadcasting regulator Ofcom has retaken a decision to award a licence for a new Nottingham TV channel to Notts TV Ltd.
It originally awarded the Notts TV consortium the licence to provide a digital terrestrial TV (DTT) service in October.
Last week Ofcom said it needed to reconsider after mistakes were found in the application process.
Consortium member Confetti Media said the error was a minor one.
In May, Ofcom invited applications to run local TV services in 21 areas as part of a government project part-funded by the BBC.
The service will broadcast seven days a week - from 16:00 to midnight for the first six months and from 07:00 to midnight after that.
'Feel better'
The winning group included Nottingham Trent University, Nottingham Post Media Group, Inclusive Digital and Confetti Media Group.
Craig Chettle, from Confetti Media, said: "[Ofcom] found a minor error in the way they'd scored some of the bids. So to be fair they wanted to go back and view them again.
"Thankfully we have won it now for a second time which makes us all feel better that it was a good bid in the first place."
A losing bid was submitted by another consortium, Nottingham TV, which included former Nottingham Post editor Malcolm Pheby.
Ofcom said the key difference between the bids was that a greater range of programming had been proposed by Notts TV.
The service is scheduled to go on air in early 2014.