Jail for Midlands men who stole more than 60 luxury cars from homes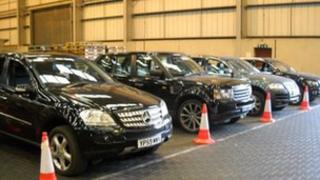 Members of a gang who stole more than 60 cars from homes across the Midlands have been jailed.
The gang of 14 men, from Nottinghamshire, Leicestershire and the West Midlands, stole the high value cars over a 12-month period.
In some cases people were threatened in their homes when the thieves broke in to steal car keys.
Eleven of the men have been sentenced at Nottingham Crown Court for their part in the car theft ring.
Three others were handed jail terms earlier in the year.
Shipped to Africa
The vehicles, stolen from Nottinghamshire, Leicestershire and Derbyshire from October 2010 until October last year, had a combined value of £1m and were mostly BMWs, Range Rovers and Audis.
They were then used in other burglaries and robberies across the region or sent to warehouses in Solihull, Birmingham and Felixstowe, Suffolk before being shipped to east and South Africa for sale.
The 14 men all played different roles in the plot, including the burglaries, moving the cars around and selling them.
Supt Lecky Grewal, from the East Midlands Special Operations Unit, said the sentences were a "just reward for a meticulous investigation by officers from three different forces, working together to bring this criminal gang to justice".
He also praised the courage of the victims for coming forward and helping to bring the case to court.
Defendants
Five of the gang had pleaded guilty to handling stolen goods.
Nikola Oblakovic, 23, from Woburn Close, Leicester, was seen driving a number of the cars. He was jailed for three years, seven months.
Issa Ali, also known as Salum Marzouk, 38, of Station Street West, Coventry, stored the stolen cars in containers. He was jailed for three years.
Paul McGinley, 29, of Kirkbride Court, Chilwell, owned a machine that made false plates. He was jailed for 14 months.
Mark Mansfield, 24, of Tuffleys Way, Thorpe Astley, Leicestershire was sentenced to two years prison.
Alan Mann, 25, of Harwill Crescent, Aspley, was given a six month sentence, suspended for 12 months.
Six others from Nottinghamshire pleaded guilty to conspiracy to commit burglary.
Brendan Turley, 27, of Coleby Road, Broxtowe, was jailed for three years and nine months.
Ashley Osbourne, 26, of Teesbrooke Drive, Woolaton was jailed for three years and nine months.
James Clarke, 22, of Bells Lane, Aspley, was jailed for three years.
Aaron Wilson, 24, of Squires Lane, Bulwell, was jailed for two years.
Matthew Johnson, 26, of Mansfield Road, Blidworth, was jailed for 21 months.
Andrew Wheelhouse, 31, of Mansfield Road, Underwood, was given a 12 month sentence suspended for a year.
Three others were sentenced earlier this year.
Matatizo Mkamdawire, 28, of William McKee Close, Coventry, was jailed for six months for possessing criminal property.
Ashley Charles, 24, of Squires Avenue, Bulwell and Kyle Morgan, 25, of Potters Hollow, Bulwell were sentenced at Leicester Crown Court in August for their part in the plot.
Charles was jailed for one year for burglary which will run concurrently with a 12 year term for an armed robberies in Leicestershire and Sheffield.
Morgan, was jailed for 10 years for his part in armed robberies in Leicester and Sheffield and a year that will run concurrently for burglary conspiracy.