Nottingham murder victim Ethsham Ul-Haq Ghafoor buried without his brain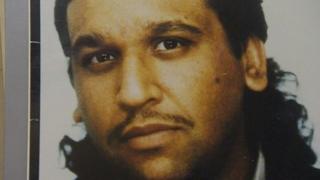 The family of a Nottingham taxi driver murdered 18 years ago say they are "devastated" after being told by police that he was buried without his brain.
Ethsham Ul-Haq Ghafoor, 26, was shot in the head and body in 1994 while parked on Lambley Lane in Gedling.
His brain was discovered after an audit at the Queen's Medical Centre of human tissue retained from "historical investigations".
Nottinghamshire Police said it was supporting the family.
But his family said they had now lost "faith in the police".
Mr Ghafoor's sister, Siemienh Ghafoor, said: "We had the funeral seven to eight months later and we thought we were laying his body to rest.
"It has devastated us all - it's basically as though it has happened all over again."
'Extremely upsetting'
The family said it was considering an official complaint against Nottinghamshire Police.
Asst Chief Constable Paul Broadbent said: "We appreciate this is extremely upsetting and difficult time for Mr Ghafoor's family and we are doing everything possible to support them.
"Mr Ghafoor was killed in November 1994 and at that time there was no specific law governing how tissue taken from victims should be stored."
He added: "Since the implementation of the Human Tissues Act, Nottinghamshire Police has commissioned audits to establish whether any human tissue from historical investigations had been retained on behalf of the police, the coroner or pathologists.
"Procedures are now extremely robust in terms of keeping relatives of victims fully informed when samples are taken as part of an investigation, and this process is continually reviewed," he said.
"This of course will be of no consolation to Mr Ghafoor's family."
Police said unsolved cases were reviewed every few years with the potential for further forensic examination, in light of any new techniques.
The force said it would continue its hunt for Mr Ghafoor's killer, who remains undetected.
His family will now hold a second funeral for him.