Lord Biro: What motivates a serial fringe candidate?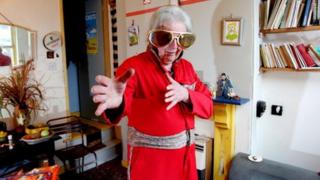 He dresses as Elvis and his policies include free neutering for cats and Boris Johnson.
But although Lord Biro comes across as a joke election candidate, he insists there are serious motives behind his bizarre canvassing.
Earlier this month he stood in the Corby by-election triggered by the resignation of Louise Mensch.
Running on a manifesto that included giving Pudsey the dancing dog the honorary title of The Duke of Wellingborough, he got 99 votes - more than four other candidates.
So why would someone vote for him, and why has he stood in more than a dozen elections?
The serial fringe candidate was born David Laurence Bishop.
Delivering bread
Now a retired 68-year-old, the first four decades of his life seem to have been fairly inconspicuous. He grew up in the Broxtowe area of Nottingham, married at 21, had a daughter and later divorced.
For most of his working life he was a painter and decorator, apart from a couple of years delivering bread.
But in the mid-1980s, after someone bought him a poetry book, he started writing poems.
Taking his inspiration from poet Lord Byron, whose ancestral home is in Nottinghamshire, he adopted the pen name Lord Biro, and soon branched out into art.
One of his first artworks was a portrait of Paul McCartney. But his art, like his poetry, gradually became more satirical and political as time went on.
The first time he stood as a parliamentary candidate was in Tatton in the 1997 general election.
Conservative Neil Hamilton lost his seat to independent Martin Bell, following allegations about his involvement in the "cash for questions" scandal.
Mr Bishop named his party "Lord Biro Versus the Scallywag Tories", and came eighth out of 10 candidates.
He admits he would not want to be an MP, but standing for election means he can highlight issues he believes are important.
"I find it interesting," he said.
"Some of it is obviously a joke but I like raising issues other people don't campaign on."
The most recent example of this was at Corby. With his policy of free neutering for cats and Boris Johnson, Lord Biro wanted to highlight "rip-off" vets' fees.
"I think it's why all these animals are being dumped," he says.
His political party is called the Church of the Militant Elvis Party, a name he came up with in 2001, when he stood against Conservative MP Eric Pickles in Brentwood.
"There was a Christian evangelist group that were involved with the local Tory party," he says. Plus he is a big fan of 50s rock and roll.
But would he not get taken more seriously if he campaigned in normal clothes instead of an Elvis jumpsuit?
"You are competing with all these fringe parties like the Raving Loonies and all the other ones," he said.
"You get all these wacky people standing and if you want to get any media attention you've got to compete with them."
He says voters also relate to the Elvis image.
"I didn't wear any Elvis stuff in the recent one," he said. "I wore the Hawaiian beach shirt. That got some laughs."
While talking he gets a phone call from writer and broadcaster Ray Gosling, a friend he describes as a "former national treasure".
Lord Biro says they used to see each other in pubs in Nottingham, and got chatting through their mutual interest in politics.
Mr Gosling was going to stand for the Bus Pass Elvis Party in the Arboretum ward in Nottingham in 2011.
In the end, he could not stand because of a suspended prison sentence he was given for wasting police time, after claiming on television that he smothered a dying lover.
Lord Biro says this was annoying, because "Ray probably would have been a good councillor", and "he might have got a bit of publicity".
Recently, Mr Bishop featured in a YouTube video appealing to Elvis fans in America not to vote for Mitt Romney because he infamously drove for 12 hours with his dog in a carrier on top of his car.
The video features a papier-mache Corgi called Brian, who was previously housed in a glass case as part of an installation titled I Bit Sir Damien Hirst's Ankle Whilst He Was Being Knighted by the Queen.
Lord Biro himself does not even own a television, let alone a computer, but is considering featuring in more videos in future.
He seems determined to carry on campaigning, whatever the method.
"It keeps me out," he says.
"There are that many issues to stand on and I like raising issues.
"It gives me something to do mentally. It keeps my mind overactive at times."