BBC to host public debate on future of NHS in Newark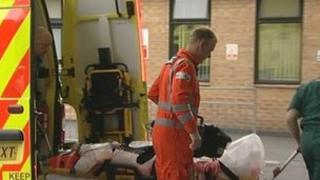 A public debate on the future of NHS services in Newark will take place at the town's Holy Trinity Community Centre on 5 December.
BBC Radio Nottingham will host the debate with doors opening at 18:00 GMT.
The discussion will be broadcast on Thursday 6 December at 09:00 GMT on 103.8FM, 95.5FM and digital radio.
The hospital's emergency department was turned into a minor injuries facility in 2011.
Some local residents opposed those plans with a 5,000-name petition and human chain around the hospital.
Hospital and NHS officials will join the discussion to set out their plans for the NHS in Newark in the future.