Broxtowe council leader's benefit fraud row continues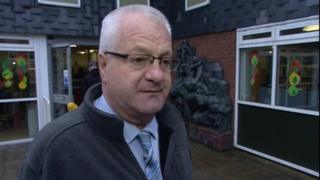 A Nottinghamshire council leader accused of overclaiming benefits has said he feels "persecuted".
Earlier this year, Milan Radulovic was charged with a £45,000 fraud when it was alleged he failed to declare council allowances on a claim form.
Charges against the Broxtowe Borough Council leader were dropped after it emerged there had been a mix-up, but officials said he still owes £7,000.
Mr Radulovic said the allegations were "utterly disgraceful".
The fraud charges were dropped at a court hearing on Friday when the Department for Work and Pensions (DWP) admitted it had made an error.
But the DWP said it was pursuing Mr Radulovic for the lesser sum, which it believed had been overpaid to him.
A spokesman said: "We always do our utmost to prosecute fraud cases to the full extent, but on this occasion we felt it was in the public's best interests to withdraw the prosecution.
"We will continue to seek the recovery of money that has been overpaid to Mr Radulovic."
But the councillor said he had been entitled to the incapacity benefit during a hospital stay because he had not been claiming councillor allowances at the time.
He said: "Claims that I fraudulently claimed money are completely and utterly disgraceful. This has caused a permanent stain on my character that will never be removed.
"I feel completely let down by the system.
"I feel I have been persecuted totally unnecessarily, and although charges have been dropped, people will always point the finger."