Broxtowe council leader: Fraud charge dropped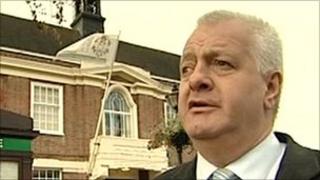 Benefit fraud charges against a Nottinghamshire council leader have been dropped after government officials admitted they made a mistake.
Broxtowe Borough Council leader Milan Radulovic was charged with benefit fraud of £45,000 earlier this year.
All charges were withdrawn after the Department for Work and Pensions (DWP) admitted a clerical error.
Mr Radulovic, of Cross Road, Eastwood, said his reputation had been ruined. The DWP has yet to comment.
In January, it was claimed Mr Radulovic had failed to declare council allowances on an incapacity benefit claim form - and had accepted £45,000 in overpayments.
'Wholly justifiable'
At Nottingham Crown Court, Judge Michael Stokes QC agreed there was no prosecution case after the DWP admitted they had acted in error and said Mr Radulovic "could leave the court without a stain on his character".
The DWP and Crown Prosecution Service have yet to comment.
After the hearing Mr Radulovic said he had been entitled to the money for many years but had never claimed it due to his position.
He said: "I am perfectly entitled to the incapacity benefit, which the DWP agreed, but I have never claimed a penny of it because the cost would fall on to the local taxpayers.
"This has damaged my reputation and has caused me further worry and concern, affecting my health.
"I am very relieved the charges have been dropped but still very annoyed at the way I have been treated and the way these sort of accusations were made against me without me having a chance to reply."
Claim continuing
In a letter to the councillor, outlining that charges against him had been withdrawn, the DWP said they "accepted he was not given an opportunity to put forward his case" and his entitlement to the benefits "were wholly justifiable".
The Labour councillor, who received an MBE in 2007, held the position as leader of Broxtowe Borough Council from 1995 to 2007. He was re-elected again as leader last year.
The politician was left almost blind in one eye from keyhole surgery complications to remove a gallstone.
In 2005, he won a six-figure payout from the Queen's Medical Centre for suffering serious health problems after the operation.
Mr Radulovic said he would now look to seek action for the extra stress caused to him in the last year and would continue his claims dispute with the DWP.