Boy, 15, detained for raping 65-year-old disabled man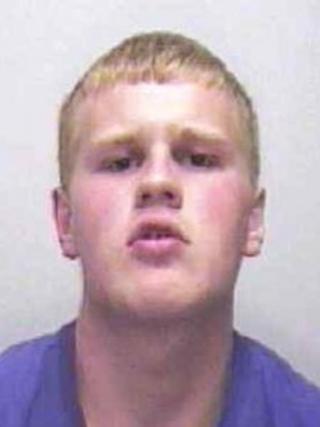 A 15-year-old boy who raped and abused a 65-year-old disabled man while "out of his own mind" on drugs and alcohol has been detained indefinitely.
Ben O'Neill had been warned by a doctor not to mix his medicine for ADHD with other drugs.
The boy, from Mansfield, Nottinghamshire, also helped violently rob a 24-year-old disabled man.
He had pleaded guilty to robbery, two counts of theft, rape, attempted rape and another serious sexual offence.
Judge John Milmo gave him a sentence of detention for public protection.
He told him he must serve three and a half years, less 101 days which he has already spent on remand, before a parole board can consider him for release.
A court order had prevented O'Neill from being identified because of his age, but Judge Milmo lifted this because of the "appalling circumstances" of the case.
Mixture of drugs
Adrian Langdale, defending O'Neill, said he had acted out of character.
He said O'Neill was under the influence of alcohol, cannabis and MCAT [mephedrone], when he committed both offences.
These, combined with his medication for attention deficit-hyperactivity disorder (ADHD), meant he was "clearly out of his own mind", said Mr Langdale.
The robbery happened on 3 August at about 21:15 BST, while the 24-year-old victim was walking along a footpath on the old site of Sherwood Colliery.
O'Neill was with a group of about 20 other young people and one struck the man's head with a bottle.
O'Neill then grabbed the man and pulled his jacket over his head so he could not see.
'Stop - he's disabled'
The other youth continued to strike him and also kicked his head several times while he was on the ground.
O'Neill eventually shouted: "Stop. He's disabled. It's wrong."
The man lost consciousness and later found his phone and keys had been stolen.
The following day, O'Neill stole a bottle of vodka and sexually assaulted a 65-year-old disabled man.
Judge Milmo said O'Neill did not do so for his own sexual gratification.
Instead, he said, O'Neill had intended to "degrade and humiliate a vulnerable victim by enforcing on him a series of sexual acts".
Later the same day, O'Neill stole a laptop from a friend.
The court heard he had a difficult upbringing and had been violently assaulted by his mother's partner when he was young.