Raj Chandran: Warning lifted in PCC candidate care home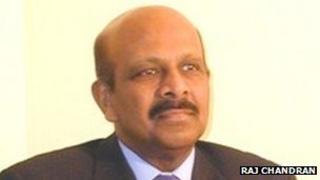 A formal warning against a care home owned by a Nottinghamshire police and crime commissioner candidate has been lifted, the BBC has learned.
The owner of the Manor House Care Home, in Brook Street, Sutton-in-Ashfield, Dr Raj Chandran, is standing as an independent candidate on 15 November.
An inspection last month by the Care Quality Commission (CQC) raised serious concerns about the way that it was run.
The watchdog carried out a second unannounced inspection on Friday.
Dr Chandran said Friday's inspection had proved him to be "compliant".
'Flabbergasted'
In its October inspection, the CQC found errors in the system used by staff to manage residents' personal allowances, with incorrect balances and problems in the method used to show when money had been spent.
It also took "enforcement action" over errors in staff records, in which appropriate checks on staff had not been carried out and some files did not include application forms, references or proof of identity, and also expressed concerns over staffing levels.
The most recent inspection report said the home had introduced a new system of managing and auditing personal expenses for residents.
A new system for staff records had been introduced and all the required information had been supplied - and evening staffing levels had been increased, the report said.
Dr Chandran, who runs the home with his wife, said he was "flabbergasted" over the timing of the original report's findings.
The retired GP said the original report would not affect his candidacy for the role, but he would be taking up the issue with the Electoral Commission.
The CQC said its publication of information was part of normal practice.
In May, Manor House Care Home's contract was suspended by Nottinghamshire County Council because of concerns over care of residents.
The contract has not yet been reinstated but the home is accepting private patients.