Co-op criticised by MP Leslie for St Ann's shop closure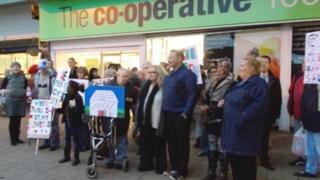 An MP is urging a supermarket group not to move "the last basic food shop" out of an area of Nottingham.
More than 50 residents held a protest outside the Co-operative Food store in Robin Hood Chase, St Ann's, on Friday.
Nottingham East Labour MP Chris Leslie said the closure was especially disappointing given the Co-operative Group's "ethical stance".
The store will close on Saturday as the Co-operative says it is not financially viable.
Nottingham City Council has offered the premises rent and rate-free, but the Co-operative has declined to meet the authority to discuss the options.
Mr Leslie said: "I am deeply concerned that many vulnerable residents will face a long walk over the cold winter months - with scant public transport options available - just to get a basic food shop."
'Shame on them'
Chris Shannon, an advisor at St Ann's Advice Centre, said: "They should be bloody well ashamed of themselves.
"Their roots are as community based self-help societies set up with the goal of bypassing the monopolies and enabling working class people access to reasonably priced food.
"Shame on them, they are abandoning the very people they are in existence to serve."
Residents will have to travel to Aldi or Tesco in Nottingham city centre if the Co-operative closes.
Protester Richard Pearson said this would be difficult for people in St Ann's as most did not own cars and elderly people would find it difficult to carry weekly shops on the bus.
"It's going to have a big impact on local people because a lot of them are disabled and elderly who live around the [Robin Hood] Chase and there is nowhere for them to go," he said.
Staff redundancies
Five members of staff have been redeployed within the group and eight have chosen to take redundancy, a spokesperson for the Co-operative said.
Jon Collins, leader of Nottingham City Council, said: "I think people are really angry about the way a company that professes to have some kind of social conscience is choosing to behave.
"The council has said they can have the premises for nothing.
"How can it be so badly managed that they can't even run a store there and not make a loss?"
One option, Mr Collins said, was for the store to move to the main road running through St Ann's, in premises being built as part of regeneration of Robin Hood Chase.
A spokesperson for The Co-operative Food said: "We are aware of the strength of feeling of local people and would like to stress that the decision to close our St Ann's store was not made lightly or without significant consideration.
"All possible options were considered but, unfortunately, the store is not financially viable."