Peter Smith denies Hilda Owen claw hammer murder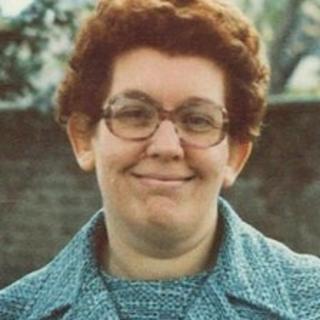 A Nottinghamshire man accused of murdering a widow with a claw hammer has told a court he helped her sign a will but did not kill her.
Peter Smith, 48, of Skegby, said he helped Hilda Owen, 71, prepare her will which left a house and money to him, just two days before she was attacked.
Mrs Owen was killed with a claw hammer in February 2007.
Mr Smith said he had travelled to several woodlands on the night she was killed "looking for sex".
Nottingham Crown Court heard that phone records showed Mr Smith had travelled to various locations that evening.
When asked in court, he denied driving to the locations to find somewhere to dispose of bloody clothes and a claw hammer used to kill Mrs Owen.
Mr Smith called 999 to report finding Mrs Owen's body, saying he went to her home to check why the curtains were still shut.
The court also heard that Mr Smith had debts of £35,000 and a mortgage on his home.
Mrs Owen had 48 injuries consistent with the use of a claw hammer and a screwdriver and died from some of the 29 she received to her head, the court was told.
She had also been strangled.
A screwdriver with Mrs Owen's blood on it was recovered from her house.
Mrs Owen lived next door to Mr Smith, who worked for the Department for Work and Pensions, in West Hill, Skegby.
The trial continues.