Lipstick jungle boa stolen in Nottingham house break-in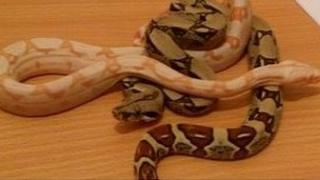 A two-year-old snake has been stolen during a burglary at a house in Nottinghamshire.
Thieves took the lipstick jungle boa constrictor, named Jane, from the property in Church Street, Stapleford, on Sunday or Monday.
Police said the 1.5ft (0.4m) red and brown reptile was not dangerous but would die without certain equipment.
Intruders smashed the rear patio window and also stole a digital receiver box. Police have appealed for information.