Nottinghamshire police role candidate's care home warning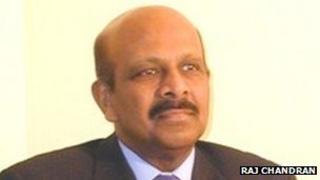 A care home owned by a Nottinghamshire police and crime commissioner candidate has been given a formal warning by a government watchdog.
An inspection at the Manor House Care Home, in Brook Street, Sutton-in-Ashfield, raised serious concerns about the way that it was run.
Owner Dr Raj Chandran, who runs the home with his wife, is standing as an independent candidate on 15 November.
The retired GP said the report would not affect his candidacy for the role.
In October, the Quality Care Commission (CQC) carried out an unannounced inspection at the care home, which looks after older people and those living with dementia.
The CQC said it carried out a second unannounced inspection on Friday to check on whether improvements had been made in relation to the warning notice.
It said a report of the inspector's full findings would be published on its website "in due course".
Dr Chandran said he was "flabbergasted" about why the report of the original inspection had been released days before the election and said he would be taking up the issue with the Electoral Commission.
Normal practice
He said: "I think it is politically motivated to discredit me standing in this election. I will not stand down because I have done nothing wrong and the CQC's warnings have been complied with."
CQC said it strongly refuted Dr Chandran's allegations.
A spokesman said: "The publication of this information is part of CQC's normal practice.
"Any inspection reports are published on our website in a timely manner and, where warning notices are issued to providers, a summary (is) also published, by way of a press release.
"Providers are made aware at every stage of the contents.... If representations are upheld as a result of compelling information to halt publication the summary is not published."
Staffing level concerns
Inspectors found errors in the system used by staff to manage residents' personal allowances, with incorrect balances and problems in the method used to show when money had been spent.
The CQC has also taken "enforcement action" over errors in staff records, in which appropriate checks on staff had not been carried out and some files did not include application forms, references or proof of identity.
They also expressed concerns over staffing levels.
Andrea Gordon, deputy director of operations at the CQC, said: "This warning sends a clear message that the owner of the Manor House Care Home needs to address this issue or face further consequences."
She added that the owners of the home could face action if standards of care were not improved.
'Discredit' claim
Dr Chandran said he and wife Dr Qudsia Chandran had addressed the concerns made by the CQC.
In a joint statement, Mrs Chandran said: "We received a notification from the CQC on 21 October that some improvements must be made by 6 November.
"These improvements to staff levels, health issues and records have been made and we replied to the CQC over a week ago.
"We believe we are doing the job with 150% efficiency so we are quite surprised the CQC have chosen to discredit the owners by issuing this report."
She added that the couple would be seeking legal action against the CQC.
In May, Manor House Care Home's contract was suspended by Nottinghamshire County Council because of concerns over care of residents.
The contract has not yet been reinstated but the home is accepting private patients.