Nottingham's Polish community mark Remembrance Day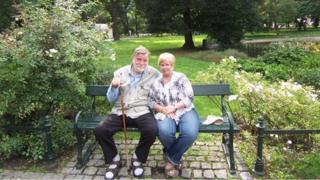 A tree has been planted by members of Nottingham's Polish community to mark Remembrance Day.
In Poland, 11 November is a public holiday and is called Independence Day, as the end of the First World War allowed Polish people to regain the freedom and unity of their country.
The tree was planted at Woodthorpe Grange Park on Saturday.
The idea for the planting came from a Polish journalist who moved to England to live with her English husband.
Barbara Zaliwska-Moreton, who has lived in England for 11 years, has given the Japanese maple to Nottingham on behalf of the Polish community.
The tree planting is also intended to celebrate the Queen's Diamond Jubilee.
The event was organised by the Signpost to Polish Success (SPS), a Nottingham-based charity which helps Eastern European migrants become integrated members of British society.
Beata Polanowska, SPS project co-ordinator, said: "We, the Polish community want to join our British hosts in their celebrations, reflect on our own important historical moments and make a positive contribution to the society where we now live."
The Consul General of the Republic of Poland, Łukasz Lutostański, will attend the planting with his family.
Representatives and pupils of the Polish Saturday School in Nottingham will be there carrying their school banner, along with other members of the Polish community and representatives and volunteers of SPS.
The Lord Mayor of Nottingham, Leon Unczur, and the deputy leader of Nottingham City Council, Graham Chapman, also attended.