Bingham Costa Coffee: new petition in favour of branch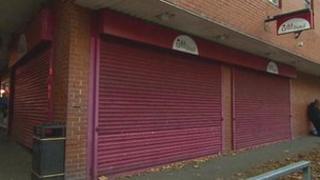 A counter petition has been set up in response to a campaign trying to stop a coffee chain moving into a Nottinghamshire town.
Michael Ball, who started the counter petition, said Bingham is a growing town and would benefit from having the Costa Coffee branch.
Sham Ramparia, who would run the store, agreed it would benefit the town.
The original petition was started by a cafe owner who said independents are being squeezed out by big companies.
But Mr Ramparia, who would run the branch as a franchise, says he has invested his own money in the area and believes it will increase footfall for other shops.
Mr Ball, who has lived in Bingham for 12 years and does not know Mr Ramparia, said: "People have smelt blood with the successful petition to stop the Costa opening in Totnes, Devon.
"However, this situation is different in that it involves a local businessman wanting to become a franchisee who will no doubt employ local people.
"If Bingham town centre is to grow and meet the demands placed on it by the growing population, it needs successful business to help meet that demand. Besides, I like Costa Coffee and it would be convenient to have one in Bingham."
Rival petitions
The Say 'No' to Costa in Bingham petition has attracted more than 900 signatures, with an online version attracting 150 signatures since being set up on 1 November.
One online comment said: "Bingham already has 4 independent coffee shops, it doesn't need another one - especially a chain that is not buying or supplying local produce."
Another said: "Costa will simply destroy the independent coffee shops in the town & cannot go ahead. I am saying this as an independent owner myself who has had a Costa open within 50 yards of my front door. For those who say they wont effect the independents, my takings are down 30% since they opened."
The Say 'Yes' to Costa in Bingham petition has attracted 42 signatures since being set up on Tuesday.
The Costa Coffee branch would be based in a former Oddbins branch at 2 Eaton Place, which has been vacant for about two years.
Mr Ball said the vacant premises are "an eyesore with heavy metal shutters permanently pulled down".
Mr Ramparia applied for planning permission in October for the use of the premises to be changed.
People can make comments until 23 November and a decision is expected to be made by Rushcliffe Borough Council before 23 December.
Mr Ball said he set up this counter petition after reading the comments in the original one, which had a feel of "not in my backyard".
"There are arguments for both sides to be fair," he said.
"Some people are concerned about the effect on local businesses and I have sympathy with this, whilst others welcome the inclusion of a high street name in what is a growing town."
'Friendly brand'
Mr Ball, who has a 15-year-old son and works for the NHS as an operating department practitioner in Nottingham, added: "Younger people would like a place to meet and socialise and a friendly brand in Bingham would be something they'd welcome.
"Some of the cafes in Bingham open at 9am, which is no use at all for commuters from the town and Costa Coffee would help serve this market."
Mr Ramparia runs three Costa branches in other areas, and he said these have provided jobs for local people.
"We honestly do not think that anyone should see Costa as a threat to existing retailers," he said.
"People can and will use both, depending on their needs."