Burton Joyce Primary School head teacher suspended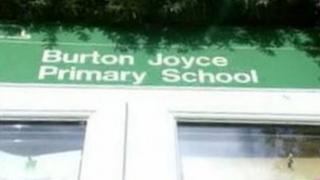 The head teacher of a Nottinghamshire primary school has been suspended.
The county council said Margaret Gretton, head of Burton Joyce Primary, had been removed from her post.
A council inquiry is continuing following complaints made to the parish council in October about how the school was being run.
The primary school's application for academy status has been put on hold pending the outcome of the investigation.
John Slater, the county council's director for education stations, said: "We have been notified that the governing body at Burton Joyce Primary School has chosen to suspend the school's head teacher.
"The council will now continue to work with the school and governors to bring a full and proper investigation to a timely conclusion.
"As the investigation is ongoing, it would be inappropriate for us to comment further at this stage."
A Burton Joyce Parish Council statement said: "We note the recent developments at Burton Joyce Primary School by the governing body with interest and look forward to the time when the matter is concluded by the appropriate authorities.
"We understand that the investigation will continue and it is difficult to comment further while this is ongoing."