Firm to rescue Nottingham's unfinished Southreef complex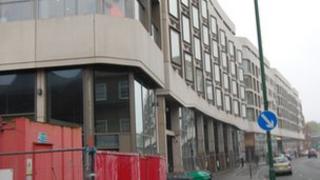 A £36m tower complex in Nottingham city centre that is still unfinished five years after work began is being rescued by a new developer.
Southreef was sold when the former owner ran into financial trouble.
Colin Wright of new owner Nottingham One said work on the complex would restart in January.
Nottingham City Council deputy leader Graham Chapman said he was "optimistic" the new owner would have it finished by the end of next year.
Economic crisis
Stretching along a section of Canal Street in central Nottingham, the Southreef complex has a combination of offices, apartments and retail space.
Some of the apartments are already occupied, but lighting and fixtures in other areas are not yet working.
Mr Wright said: "We have rescued the project which fell into administration because of the economic crisis and didn't quite get finished.
"A lot of companies were caught out by the boom and bust globally."
Student Saeed Al-Ahbabi, who lives in a flat in the complex, said: "The floor is not ready and the walkway to the canal is closed - it is not really well done.
"Some lights are not working - it is annoying because it is rubbish and it is not really ready."
Mr Chapman said the firm would probably hope to sell the apartments to international students attending universities in the city.
"It is a very attractive development ... that was bought at the bottom of the market," he added.
The property has had several owners since work began on the project in 2007.