Rat in theatre leads to 40 ops cancelled at King's Mill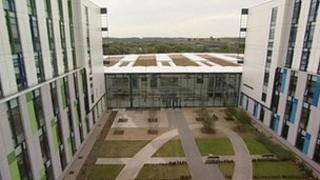 Operations at a Nottinghamshire hospital were cancelled after a rat was found in an operating theatre.
A spokeswoman from King's Mill Hospital, in Mansfield, said the rodent had entered the theatre last Monday night when the room was not in use.
Pest controllers were called into the hospital and as a result, about 40 operations had to be cancelled.
Hospital bosses have apologised for the "inconvenience" to patients and said the hospital was now fully operational.
'Eradicate the problem'
Karen Tomlinson, director of operations at the hospital, said she was shocked to learn evidence of a rodent had been found in an operating theatre.
She said: "As soon as we became aware of this fact the following morning, we immediately took steps to thoroughly clean the area and called in external pest control experts to eradicate the problem.
"Whilst this work was under way, it was therefore necessary to postpone a small number of operations and we have apologised to any patients affected for the inconvenience caused."
Ms Tomlinson added rats had not been found anywhere else on the premises.
Rats can spread salmonella and carry the potentially fatal Weil's disease.
'Serious issues'
This latest upset comes less than a week after figures obtained by the BBC revealed the costs of a private finance initiative (PFI) project at King's Mill have more than doubled to over £2bn.
Sherwood Forest Hospitals NHS Foundation Trust, signed the PFI deal for the period 2005 - 2043, for a total cost of £976m.
But in figures obtained under a Freedom of Information request, the trust now believes PFI will cost it £2.05bn.
In September, the trust's chair Tracy Doucet stepped down after a letter from the independent health regulator group Monitor was made public that stated it was "extremely concerned by the very serious issues facing the trust".
A report found the trust was struggling to meet its PFI payments.
The trust lost almost £6m in its first quarter of 2012 and warned it could run out of cash by January.
Separately at the beginning of October, it emerged almost 80 breast cancer patients were being recalled by King's Mill Hospital after being given inaccurate test results.
About 120 women were given false negative results which meant some of them would have benefited from treatment different to what they were given.
The errors were in tests between 2004 and 2010 to determine whether women would benefit from hormone treatment.